Lewis Smith Lake is a reservoir in north Alabama. Located on the Sipsey Fork of the Black Warrior River, the lake covers over 21,000 acres in Cullman, Walker, and Winston counties. The three-fingered lake has over 500 miles of shoreline, and at full pool has a level of 510 feet.
The lake was created by Alabama Power by use of the Smith Lake Dam. The largest earthen dam in the eastern United States, it stretches 2,200 feet in length and reaches a maximum height of 300 feet.
Construction began on November 25, 1957, and the dam entered service on September 5, 1961. Nearby towns include Bremen, Crane Hill and Dodge City in Cullman County; Curry and Jasper in Walker County; and Addison, Arley, and Double Springs in Winston County.

It is the second-cleanest lake in America, behind Lake Tahoe.
Source: Wikipedia [ http://en.wikipedia.org/wiki/Lewis_Smith_Lake ]
Public Boat Launch:
Public boat launch around the corner at Smith Lake Park

Marina across the water - (with fuel) :

Smith Lake Marina ( and Brother's On The Lake Resturant)
[F] on Map Below or Click here for location
175 County Road 312
Cullman AL 35057
256-737-7131
www.smithlakemarina.com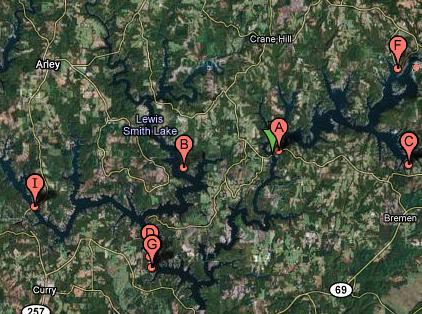 - Little's On The Lake - just east of "F" on map.
Other area Marinas - (with fuel)
Trident Marina @ Big Bridge
[A] on Map Above or Click here for location
21680 County Road 222
Crane Hill AL 35053
256-286-0050
Rock Creek Marina - southwest of lakehouse
[B] on Map Above or Click here for location
288 County Road 4010
Crane Hill AL 35053
(256) 747-1148
Duskin Point Marina - southwest of lakehouse
[D] on Map Above or Click here for location
198 Duskin Point Road
Jasper AL 35504
(205) 384-6942
Squirrel's Marina - southwest of lakehouse
[G] on Map Above or Click here for location
65 Marina Drive
Jasper AL 35504
(205) 387-8616
Duncan Bridge Marina - southwest of lakehouse
[I] on Map Above or Click here for location
56 Marina Drive
Arley AL 35541
(205) 387-1208

Other area Marinas (without fuel - organized by distance)

Speegle's Marina - southwest of lakehouse (Click for location)
7146 County Road 310
Crane Hill AL 35057
256-734-0698
Hames Marina - southeast of lakehouse (Click for location)
850 County Road 248
Cullman AL 35057